Umina Community Group takes pride in Umina Beach, its natural beauty, its beaches,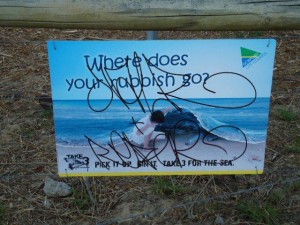 its parks, and the amenities in the area.  Graffiti and dumped shopping trolleys destroys this ambience, creating visual pollution while dampening this sense of pride, and creates an uneasy feeling amongst residents who feel violated by this type of vandalism. Graffiti vandalism is a crime under the Graffiti Control Act 2008 No100 and offenders can be prosecuted.
What should you do about Graffiti?
Take a photo with your phone or a camera and upload it to www.VandalTrak.com.au or call the toll free hotline on 1800 707 125 (9AM to 5PM Monday to Friday).  If the graffiti is on public property the hotline will notify the government agency or Central Coast Council for clean up.
If the graffiti is on an AusGrid powerpole or transformer, AusGrid will remove it for you. Use their simple web site to mark the location of the graffiti – see here.
Graffiti Removal
One of the most effective strategies against illegal graffiti is to remove it as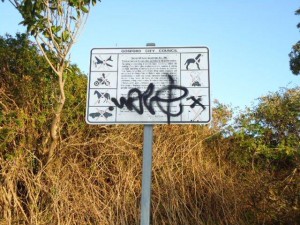 quickly as possible. See here for some tips.
Graffiti Prevention
By taking preventative action you can avoid the expense and effort of removing graffiti. For prevention strategies see here.
Lets get working to eliminate graffiti and make Umina Beach a better place for all !
What can you do about Shopping Trolleys?
As the Central Coast continues to grow with more and more people choosing to live in this iconic coastal area, the ever present problem of shopping trolleys in our streets grows. It would seem this problem is here to stay with only limited progress on stemming its impact in recent years. Trolleys not being collected have become garbage collection sites that look awful and start to smell. The longer the trolleys remain the more they are used by others and end up in the way of walkers and cars, and in many cases in the creeks and on the beach.
Across the state there have been a number of trials of methods to reduce the number of trolleys leaving shopping centres, like the grates at Deep Water Plaza and there has also been changes to the local government act to allow Council Ranges to fine people for leaving a trolley on public land. There are a number of things local residents can do to help see trolleys are collected ASAP.
Everyone who has a smart phone can download the two free apps which allow you to report a dumped trolley. These are Trolley Tracker and "Trolley Collect". These are easy to use apps that use your current GPS location to send the address of the trolley to the collection service. We are especially encouraging local Apprentices and University Students as Trolley Tracker has a monthly draw with a winning amount of $1,000.
For those without a smart phone, most trolleys have a phone number on the handle which you can call and give the address. This service will also notify the collection service.